About Us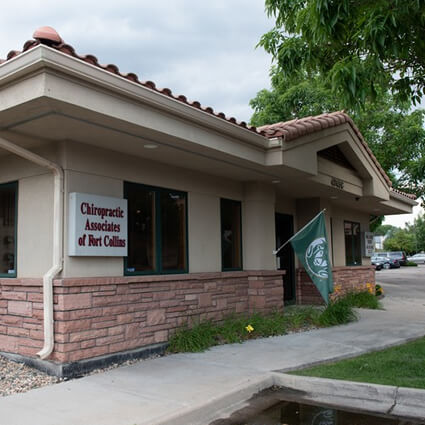 Oberg Chiropractic at Chiropractic Associates of Fort Collins was established in 2004, upon Dr. Mark Oberg's graduation from Palmer College of Chiropractic. Born and raised in our community, he knew he wanted to return to his hometown to open a chiropractic office.
Over the years, our practice grew. It was time for a new, larger premises, and we moved to our current location in January 2020.
Our Goal
To help people perform at their best so that they can function their best at work, school or play.
In our warm and energetic atmosphere, you'll have access to a range of healing options that serve as a complement to your chiropractic care with us. After a thorough examination, we can determine the source of your problem and how best to help you.
Your Center for Healing After an Accident
Dr. Oberg is certified in whiplash and brain injury traumatology through The Spine Research Institute of San Diego. He took numerous courses on the nature of injury. It's one of few places in the world that does live crash tests, giving a deep insight into the effect of an impact on the body. Dr. Oberg has the expertise and experience to assist you in recovering your health after you've been injured.
Serving You and Your Family
As a Christian, Dr. Oberg is guided by the Bible in his everyday life and practice. He believes in loving and serving people to the best of his abilities. When you meet him, he's interested to get to know all about you, your lifestyle and your family. To best help you, you'll receive a plan of care that is tailored to your individual needs – there is no cookie cutter approach here!
MEET DR. OBERG »
The Surprising Side Effects of Chiropractic
Most people think chiropractic is about back pain. Though we're excellent at relieving spine-related discomfort, you might be surprised at what else we can do. One patient with a low back problem came in for a regular visit. Dr. Oberg asked her, as he does all patients, "Tell me something good about your day." The young lady replied that she hadn't been constipated since starting care. Though it wasn't revealed during her evaluations, she had been suffering for years thinking there was nothing to be done for it. We love hearing about all the little changes!
Call Now
We have on-site X-ray facilities if we need to get a more detailed look at your needs. Contact our team today to set up your first appointment!

About Oberg Chiropractic at Chiropractic Associates of Fort Collins | (970) 207-0274