Whiplash & Brain Injury Treatment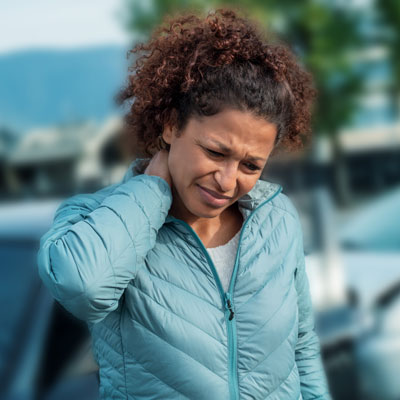 Following a car crash, the forces involved in the impact cause you to lose the natural curves in your spine. Tendons and ligaments are damaged. If left unaddressed, it will cause lifelong issues. At Oberg Chiropractic at Chiropractic Associates of Fort Collins, Dr. Oberg is a certified whiplash and brain injury traumatologist, certified by The Spine Research Institute of San Diego.
The common symptoms you'll experience after a motor vehicle accident include
Arthritis
Degenerative joint disease
Headaches
Loss of use in the hands and feet
Numbness and tingling
At our office, you'll have access to our X-ray suite. We can take images to see the effects of the collision on your spine and determine which changes need to be made. We also provide stress tests that will tell us if and when you are strong enough to complete corrective exercises and what they will do for you.
After making changes, we'll monitor your condition with regular progress examinations and X-rays. That's important not just for you, but for the insurance companies, who will be able to see that ongoing care is warranted.
With your chiropractic care, we make changes to the spine. The upper part of your spine is attached to the brain stem. When the upper spine is adjusted, it takes pressure off the nerves in that area, which can assist with the healing of a brain injury.
Everything has a season, and healing is no different. After an accident, you can expect a recovery period that lasts a little longer than for a typical injury. Usually, about three months of care is the average. Along with your chiropractic adjustments, Dr. Oberg will prescribe Pettibon exercises. These exercises stretch out shortened ligaments and break up the scar tissue that forms after an accident. Laser therapy may be a part of your care, which will increase the mitochondria of the cell to enhance your progress.
Auto Accident Insurance Is Accepted
You won't have to worry about paying up front for your care. It will usually be covered by the auto insurance policy. Dr. Oberg also works with many lawyers in our area. Contact us now to set up your first appointment for whiplash & brain injury treatment Fort Collins!

Whiplash & Brain Injury Treatment Fort Collins CO | (970) 207-0274